How IoT Technology Helps In Building Smart Fleet Management Systems?
The automotive industry is highly revolutionized by adopting technology in manufacturing automobiles, managing transportation, and vehicle maintenance and repairs. IoT technology plays a significant role in making fleet management and repair processes feasible and reliable.
Automotive IoT devices indicate sensors, cameras, GPS and tracking devices, etc. IoT technology helps improve and automate transportation features, such as,
Car-to-car interaction
AI-enabled driving assistance
Predictive maintenance
Road safety and blockage indicators
Accident precautionary devices
GPS tracker devices
And so on…
IoT-based devices are highly effective in making daily life easier and more purposeful. Automobile manufacturers also depend on streamlining the production process by converting manual tasks into automation. By implementing automated operations, you ultimately reduce human errors and increase quality control.
At MMCGBL, we have helped automotive businesses to make their routine operations more productive and uncluttered. We recently completed a project that helped a manual automotive workshop turn into an automated one.
However, let's look at what more IoT can do for fleet management and automobile manufacturing business.
IoT Technology in Fleet Management & Automotive Manufacturing
Here we have gathered 5 ways in which IoT advances the automotive industry with IoT technology. 
Fleet management & telematics
IoT improves fleet management with new sophisticated features, increasing efficiency and lowering the requirement for human labor. Vehicle speed, position, cargo, gas mileage, driver behavior, and other real-time data are collected by IoT devices incorporated into the cars. Moreover, fleet management operators may automatically determine the best routes, keep tabs on their workers' travel patterns, evaluate engine efficiency, and use predictive maintenance to prevent business interruptions. Today's automobile companies also embedded tracker devices to help locate your vehicle.
Read More: What is IoT Security? 6 IoT Security Issues and Challenges
Vehicle-to-vehicle Interaction
Vehicle-to-vehicle (V2V) communication is made possible by integrated IoT sensors. Vehicles may exchange data such as position, direction, performance, etc. Moreover, this function improves road safety by preventing accidents. A V2V link facilitates emergency vehicles' traffic maneuvers.
Predictive Maintenance
IoT technologies continuously check the state of the vehicle to identify possible problems. IoT sensors collect real-time information about fuel usage, engine load, lubricating oils, and runtime. Once this data has been examined, the driver is informed of any pre-failure situations. As opposed to conventionally planned check-ups, this kind of maintenance can assist save money, time, and effort while preventing vehicle failures.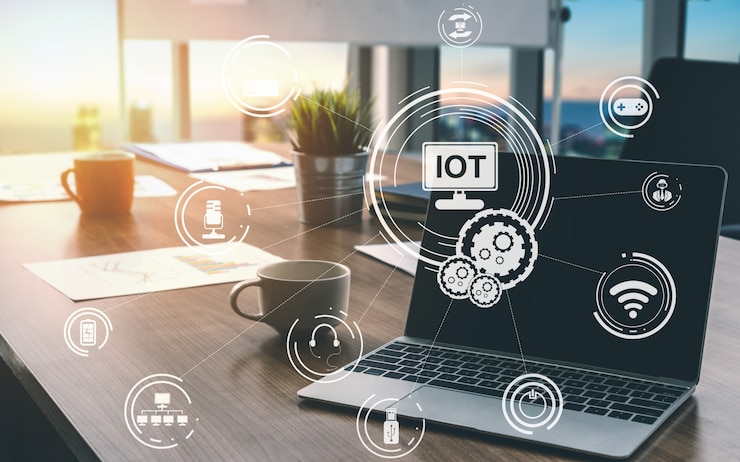 Sensor-based and Semi-autonomous Vehicle
Semi-autonomous cars can handle lane shifting, parking, reversing, and driving. Smart vehicles can compute the safest and most effective path of action to give driving assistance. Additionally, it lowers the risk of traffic accidents using IoT technology and assimilated in-vehicle camera systems.
Benefits Of Using IoT
Processing and analyzing data in real-time supports automakers in improving their comprehension of the production process. It enhances safety, establishes better standards, and lowers losses.
Read More: A Complete Guide To IoT Development and Its Top Practices
Through a smartphone app, users may quickly obtain pertinent information about their vehicles, such as the position or fuel level, from a distance. It improves the driving experience and saves time.
A plethora of in-vehicle infotainment systems, navigational tools, telematics, driving assistance systems, etc., are further available to users. It also helps to add convenience and effectiveness to automobile ownership.
IoT-enabled devices have multiple safety features like automated braking, object identification, crosswalks, lane detection, etc. It also provides driving assistance to lower human error and make all automobiles safer.
Bottom Line
The automobile industry has entered a new age with the advent of IoT, altering how we connect with our cars. Because of this cutting-edge technology, automobiles are already smarter, safer, and more networked. It improves driving quality and maintenance effectiveness while also saving time and money. If you're interested in discovering how MMCGBL IoT engineers may help your company profit from automotive IoT, let us know.