Dubai's healthcare system maintains its people's healthcare standards by delivering exceptional facilities. With the rise of technological advancement, the release of mobile app development for healthcare by a professional healthcare mobile app development company in Dubai is in demand for real-time doctor availability and medical assistance. In fact, Ninety thousand health apps have been built so far, which is expected to grow more in 2024.
In Dubai's landscape, healthcare institutions are enhancing their reachability by introducing telemedicine and virtual healthcare assistance. With the collaboration of trusted healthcare mobile app development in Dubai, you can achieve the goal of building a robust mobile application that provides exceptional user experience throughout the journey of usage.
If you belong to the healthcare industry and want to launch your healthcare mobile app development, this blog is for you. Moreover, all you need is a trusted and skillful team to kickstart your project with the infusion of smart technologies that make your app engaging and worth investment.
To make your investment worthwhile, you need to choose a reliable healthcare mobile app development company that helps you build a quality product with the infusion of advanced technology.
Let's educate you on the factors of choosing the right healthcare mobile app development company in Dubai.
How to Choose a Healthcare Mobile App Development Company In Dubai
Choosing the right mobile app development team is the ultimate success of your app. The more professional the team is, the more accurate and flawless your app will be. However, it also helps you save time and cost if you collaborate with an experienced and high-profile mobile app development team. 
Let's see how you can find the best healthcare mobile app development in Dubai.
Know Your Project Goal
Every app has unique requirements and goals that should be attained at the end of the project. First, you must be clear about your project goals, and then you can convey them to your mobile app development team. Otherwise, you will not get what you expect. Before reaching out to your development team, do your homework.
Identify your target audience.
Redefine your app goal
Estimate your budget
List down some competitors, and
Identify the potential of the app
Market Analysis
Researching your idea and finding a similar product in the market is very important. It helps you determine the market potential of the product you will invest in. Market analysis also lets you analyze the demand for your ideated app and how your competitor's app performs in the crowded market. In short, you have to analyze the market from the perspective of app users.
Identifying the market to get ideas
Becoming familiar with technology stacks
Measuring the potential of competitors' apps
Select Your Team
First and foremost, decide whether you are finding an in-house team or outsourcing your project. Let me give you a suggestion. Building an in-house team from scratch takes time and resources. You need to start hunting candidates, the recruitment process, hire candidates, train them, and at least require 4-5 team members initially. And ultimately, you have to bear the cost. What if you outsource a mobile app development company in Dubai that provides you with a professional team without hassle? Yes, outsourcing is always the best option of all. In fact, you can collaborate with them and utilize their resources by handing over your project. They are professional and have a proven record of developing successive projects. But be mindful, they should be well-known and trusted like us.
Get A BallPark Figure
The estimated cost of healthcare app development services may vary according to your preference and customization. Every mobile app development company in Dubai has its pricing structure. Moreover, you can make a list of top mobile app development companies in Dubai and schedule a meeting to get estimated costs. You can directly come to us because MMC Global helps their client to get optimal mobile app development services in Dubai within their budgets. We are a highly affordable and trusted mobile app development company in Dubai and are well aware of Dubai's people standards. We build up-to-the-mark mobile apps for the healthcare industry with the utmost advanced technologies. Our team will help you to provide the best solution that meets all your requirements within your budget.
Other Things To Ask
You can ask for support and maintenance of your app before and after development. Check their portfolio and raise questions about whatever is on your mind. Furthermore, inquire about the project management process and tools they use to manage tasks and keep clients in the loop. You can also go through the design principles, UI UX designs for specific mobile apps related to your niche, and more. 
Why You Need To Invest In Healthcare Mobile App Development In Dubai
Investing in healthcare mobile app development presents several key benefits and opportunities. Here are some of the primary reasons why this area is increasingly attracting investment: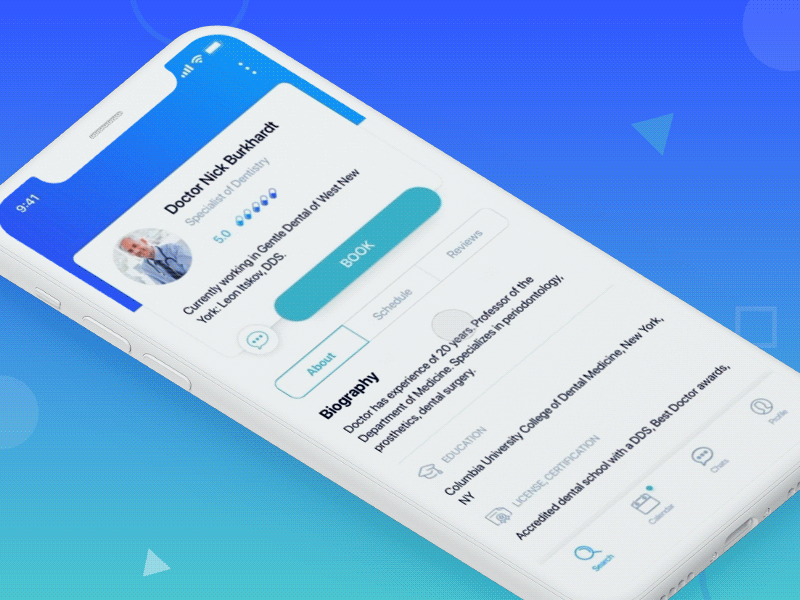 Growing Demand for Telemedicine
The COVID-19 pandemic has accelerated the adoption of telemedicine, making healthcare accessible remotely. Mobile apps facilitate this by connecting patients with healthcare providers for consultations, diagnosis, and treatment advice.
Enhanced Patient Engagement and Convenience
Mobile apps can significantly improve patient engagement by offering convenient access to health records, appointment scheduling, prescription refills, and direct communication with healthcare providers.
Read more: How Mobile Apps Are Changing The Healthcare Industry?
Personalized Healthcare Experience
These apps can provide personalized healthcare experiences by tracking and analyzing user data, such as medical history, lifestyle choices, and current health status, to offer tailored health advice and interventions.
Improved Healthcare Management
For healthcare providers, mobile apps can streamline administrative tasks, such as scheduling, billing, and patient data management, leading to more efficient operations.
Increased Accessibility
Mobile apps make healthcare services more accessible, especially in remote or underserved areas where traditional healthcare facilities may be limited.
Preventive Care and Health Monitoring
Healthcare apps can assist in preventive care by continuously monitoring vital signs, symptoms, and fitness activities. This early detection can lead to timely medical intervention.
Data Collection and Analysis
These apps can gather vast amounts of health-related data, which can be used for research, to improve healthcare services, and to develop more effective treatments.
Integration with Wearable Technology
Integrating mobile apps with wearable technology like smartwatches and fitness trackers has opened new avenues for real-time health monitoring and alerts.
Cost-Effective
By reducing the need for physical consultations for minor and routine check-ups, mobile apps can lower healthcare costs for both providers and patients.
Compliance and Security
Healthcare apps can be designed to comply with regulations like HIPAA (in the USA), ensuring the security and confidentiality of patient data.
However, healthcare mobile app development is a rapidly growing field with the potential to revolutionize the way healthcare services are delivered and experienced. Its focus on convenience, personalization, and efficiency makes it an attractive investment opportunity with a promising future.
Let's Start Your Healthcare Mobile App Development!
Handover your healthcare mobile app development project to the trusted mobile app development company in Dubai and make your investment worth it. Go through all the steps before joining hands with the team, and ask for help and suggestions with no hesitation. You can also make a budget to invest strategically and also plan for long-term app monetization.