Cloud computing is prevailing for its extrusive secure environment with high-end security protocols. People's preferences have changed, and many software applications are now cloud-based. Similarly, the cloud-based NetSuite integration platform also emerged with powerful data security features that give a secure environment to the software applications.
As you know, NetSuite is a cloud-based platform that provides businesses with a fully-managed ERP software development solution with its module-based infrastructure. Moreover, ERPs unify the whole business operation process, from automating manual tasks to storing and distributing internal and external force data. Netsuite data security must play a vital role in protecting data and gaining the trust of their client. NetSuite provides various features to ensure data security.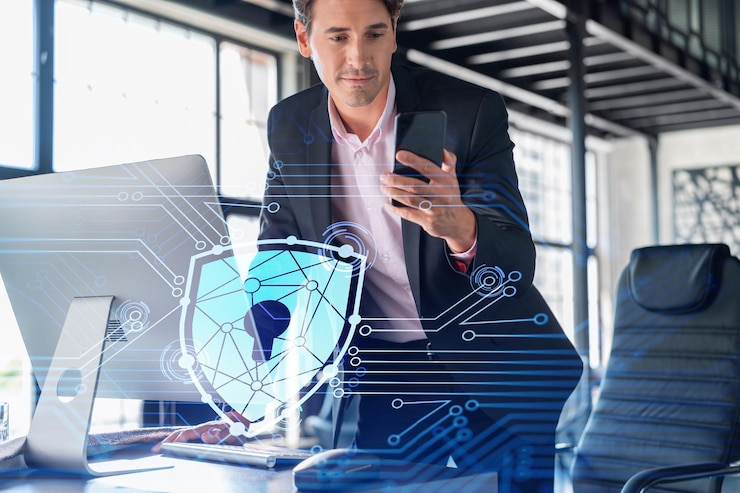 Let's delve into major NetSuite data security that supports high-end protection during NetSuite integration. 
Application-based NetSuite Data Security Features
To build a threat-free environment for your application, you must understand the NetSuite data security features you can integrate. If you are a professional NetSuite developer, you must know the nature of your application's security needs. However, if you are still looking for the best NetSuite development team, check out our portfolio. We have hands-on experience in NetSuite integration with a customized approach. Our team focuses on security features while NetSuite develops and implements all required protocols to fortify your app. In fact, a deep understanding of NetSuite data security features helps us provide quality NetSuite development services.
Role-Based Access Control
NetSuite Role-based access control is based on the finite usability of data that minimizes individual action control. It also allows limited intervention to add applications and access data to keep away from unvalidated and unauthorized applications.
Idle Disconnect
The idle disconnect is a NetSuite data security feature that automates the log-out system if you no longer use NetSuite. It means if you leave the NetSuite platform logged in and not reusing again within a few minutes, NetSuite will automatically lock your profile to prevent unauthorized access to any person. Additionally, idle disconnect frees up system resources by releasing no longer actively used connections, ensuring efficient platform infrastructure utilization.
IP Address Restriction
To avoid suspicious activity, NetSuite tracks IP addresses to prevent unusual IP address log-in. Moreover, there are few IP locations, such as Iran and China, where NetSuite restricted accessibility or provided limited features granted for use. By implementing IP address restrictions, organizations can mitigate the risk of unauthorized access, protect sensitive data, and ensure that only authorized individuals or devices can connect to their Netsuite accounts.
256-Bit Encryption
It utilizes a highly advanced encryption algorithm known as 256-bit encryption to protect sensitive data transmitted and stored within the Netsuite platform. In fact, NetSuite provides a special data security feature for online banking applications which is 256-Bit encryption. It is mainly used for digital banking software applications to secure log-ins and data accessibility.
Minimum Password Standard
NetSuite enables you to set out different standards of passwords and multi-factor authentication. It strengthens your password credibility and prevents revealing your password by repeatedly attempting from any unauthorized user. NetSuite's password policy must contain numbers, letters, and special characters. Moreover, NetSuite asks for frequent password updates without reusing old passwords.
Auto Updates for NetSuite Software
NetSuite offers real-time automated updates to provide robust security to software applications. That NetSuite software that is not updated automatically faces the biggest security threats over time. The user-centric data security standard controls and minimizes the effect of security concerns.
Intrusive Detection System (IDS)
NetSuite data security feature provides a layer of protection with the help of third-party scans and penetration tests. With the use of IDS, your business data is in safe hands, knowing that a trusted ecosystem checks and monitors your account to avoid breaches and phishing attacks.
Phishing protection
With the rising number of hackers, the risk of losing data and personal information regarding customers or organizations is increased. But NetSuite data security again embraces its data security features by providing phishing protection. These attacks are mainly sent in emails or via suspicious links, so anyone who clicks on the link can easily be trapped. It may harm financial accounts, IDs, and complex passwords. 
Read more: Understanding the Challenges of Cloud App Security
Bottom Line
In conclusion, when it comes to NetSuite integration and data security, businesses can rely on a comprehensive set of features that ensure the protection and confidentiality of their valuable information. NetSuite offers top-notch security measures, including role-based access controls, encryption, secure data centers, regular audits, and robust user authentication.
These features work harmoniously to safeguard sensitive data, mitigate risks, and comply with industry regulations. By leveraging NetSuite's data security features, businesses can establish a solid foundation for their integration projects, fostering trust among stakeholders and enabling them to focus on leveraging the full potential of this powerful platform. With NetSuite's commitment to data security, organizations can confidently embrace integration while maintaining confidentiality and protection for their valuable business data.