Technology is not just opening doors for businesses but also plays a vital role in finding love in Dubai. The emerging popularity of dating apps in Dubai increases the demand for finding the love of life in just a swap. People seek to build relationships in the diverse culture with the help of the Dubai Dating app.
With such a diverse population, the dating scene in Dubai has evolved and adapted to the fast-paced lifestyle of its residents. In recent years, Dubai dating apps like Tinder have gained immense popularity, revolutionizing how people connect and form relationships.
However, the unprecedented growth of Dubai dating apps encourages marriage bureau owners to launch apps and build profiles of their clients to get the best match. The Dubai dating app can open up more opportunities for single profiles to independently and comfortably choose their partners.
So, launching a dating app in Dubai will be fruitful for sure. In this blog, we'll explore the launching of the Dubai dating app cost and its popularity. Moreover, we will help you to be aware of how to make the most of these apps to find meaningful connections in the city of gold.
Cost Of Building Dubai Dating App
The cost to build a dating app like Tinder in Dubai can vary depending on a number of factors. It includes the complexity of the app, the features you want to include, and the experience and location of the app development team you choose.
However, as a general guide, you can expect to pay around $25,000 to $120,000 for a basic dating app like Tinder. This would include features such as user registration, profile creation, photo uploading, swiping to match, and messaging.
The cost will increase accordingly if you want to include more advanced features, such as video chat, AI-powered matchmaking, or in-app purchases. For example, developing a dating app with all the bells and whistles could cost closer to $200,000 or more.
Here is a breakdown of some of the key factors that will affect the cost of developing your dating app:
Complexity
The app's complexity will define the actual cost by calculating the number of resources, total team members, and time taken in development.
Features
The more features you want to include in your app, the more costly it will be to develop. In case you want to avoid adding more features right now, your app must be scalable to adopt the latest features by the time.
Team experience
More experienced app development teams typically charge higher rates than less professional teams. But it is worth investing in as they build flawless applications with less tiem. As a result, it will cost you less than developing from unprofessional teams.
Team location
App development teams in countries with high labor costs, such as the United States and Western Europe, typically charge more than teams with lower labor costs, such as India and Eastern Europe.
Must-Have Features Of The Dubai Dating App
User Profile
The signup and account-making process starts with some basic information. The app must allow users to sign up from their social media profiles. The data fetching from social profiles simplifies the signup process and also helps to provide a personalization experience.
User Authorization
In order to authorize your app, the user must allow the app to send an email to get a confirmation email. After successfully accessing the confirmation email, you can control your account by changing your profile and adding more information, including likes and dislikes, hobbies, and whatever.
Multilingual Support and Localization
Dubai's population is incredibly diverse, with people from various linguistic backgrounds. Ensure your app supports multiple languages and offers localization features so users can navigate and communicate in their preferred language.
Geolocation Services
Given the sprawling nature of Dubai, geolocation is a crucial feature. Users should be able to find potential matches within specific areas or neighborhoods, which is especially useful in a large city.
Advanced Matching Algorithms
Use sophisticated matching algorithms considering users' interests, behaviors, and preferences. These algorithms should provide high-quality match suggestions based on compatibility factors.
Video and Voice Calling
Considering Dubai's multicultural landscape, incorporating video and voice-calling features can help users connect more quickly and overcome language barriers. Moreover, the easy-to-calling feature may enhance the personality of the Dubai dating app. But to consider security, users must allow video or voice calling features.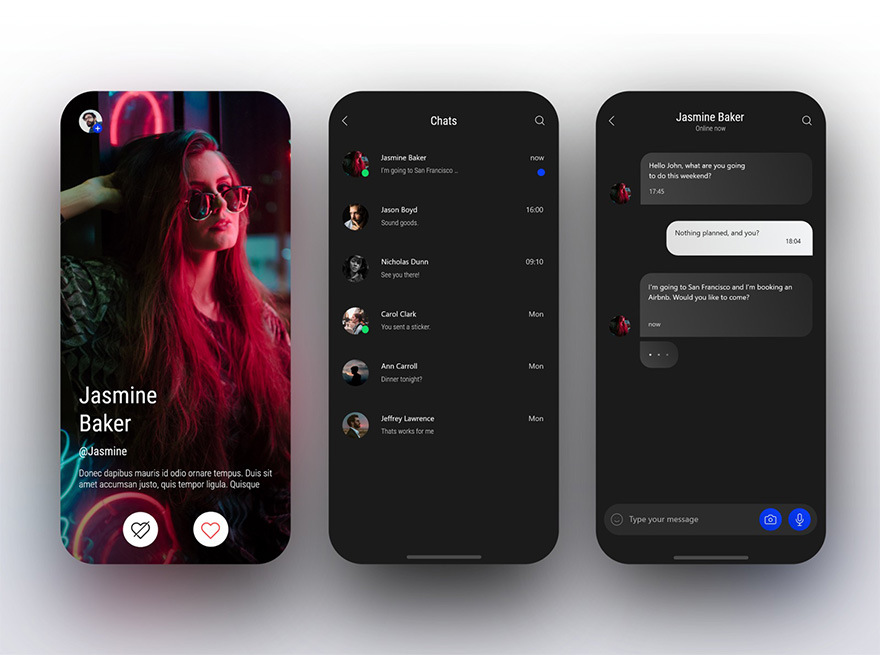 In-App Messaging
A reliable in-app messaging system with end-to-end encryption is vital for users to communicate securely. In-app messaging allows users to get to know each other better to further build their relation.
Privacy and Safety Features
Focus on user safety by including blocking, reporting, and photo verification features in a Dubai dating app. Create a safe and respectful dating environment and actively encourage users to report inappropriate behavior.
User Reviews and Ratings
Implement a review and rating features within the app where users can rate and review their dating experiences. Highly rated users can be more trusted and be more appealing to potential matches.
Read more: How Much Does Mobile App Development Cost Like Tamara In UAE?
Social Media Integration
Let users link their dating profiles to their social media accounts. This facilitates identity verification and allows users to learn more about each other's lives.
Subscription Plans
Offer premium subscription plans with features like unlimited likes, advanced filters, and ad-free browsing. These can serve as a revenue stream for your launched Dubai dating app.
However, by including these must-have features in your Dubai dating app, you can create a platform that caters to the unique needs and preferences of the city's diverse population, making it easier for users to find meaningful connections in the bustling metropolis.
Wrapping Up
In a city as dynamic as Dubai, dating apps like Tinder offer a modern and efficient way to connect with potential partners. By understanding the unique dating landscape of Dubai and following some essential guidelines, you can make the most of these apps and embark on a journey to find meaningful relationships in the city of gold. Remember, the key to successful dating in Dubai is being respectful, open-minded, and safe while enjoying the diverse and exciting dating scene the city offers.