Since WhatsApp launched, users have been highly addicted to chatting over it. It almost eliminates text messaging and shifts users to the WhatsApp mobile app. Somehow, we are obsessed with the WhatsApp user interface as it gives a soothing feel whenever we use it.
The fascinating thing about WhatsApp is its instant messaging delivery and exciting emojis that make chat more engaging. Also, it uses higher security protocols that deliver a secure environment to the users. Moreover, WhatsApp new updates bring other striking features such as 24-hour status updates, deleting accidentally sent messages, messages disappearing, etc. Surprisingly, many messaging mobile app development gained traction after Facebook Messenger and WhatsApp mobile apps launched.
Still, the process of messaging mobile app development is going on. At MMC Global, we have hands-on experience in messaging mobile app development and recently closed a few projects based on messaging apps that showcase our proficiency.
Moreover, we are a specialized custom software development company that helps SMBs and large enterprises to design, develop, and implement software to run their business operations. We have a vast portfolio of building software, mobile apps, business automation, ERPs, AI-powered solutions, and more.
In this article, we have gathered WhatsApp Mobile App Alternatives that are overlooked and still need to be demanded due to lack of popularity. But if you want to jump-start with new features and engage with a new user interface, this guide is for you. You can pick any messaging app for a unique experience.
5 Unpopular Opinion For Messaging Apps Like WhatsApp
Telegram Messenger
Telegram is the alternative to WhatsApp messaging mobile app with over 500 million active users. It is a free messaging app that requires account creation, and you are ready to go.
Features:
Threema
It is one of the best-selling chat apps on Google Play, with over 11 million users, including over 2 million Threema Work users. In addition, it keeps security first and prioritizes providing the utmost protection to your communication.
Features:
Viber
This app is beautifully created to engage you once you have used it as an alternative to the WhatsApp mobile app. Moreover, its vibrant features make it different and unique over calls and chattings.
Feature:
Wire
The Wire is preferred for team communication and is highly on-demand for video conferencing and messaging collaboration. The WhatsApp mobile app offers video conferencing to enjoy group calls. Similarly, Wire also provides this. Using Wire, your team can communicate and share information quickly, securely, and always in context. It includes messages, files, conference calls, and private conversations.
Features:
Element
It is another WhatsApp-like messaging mobile app that helps communicate in a secure environment. Element creates group chats and communities to collaborate with the team and your friends.
Features: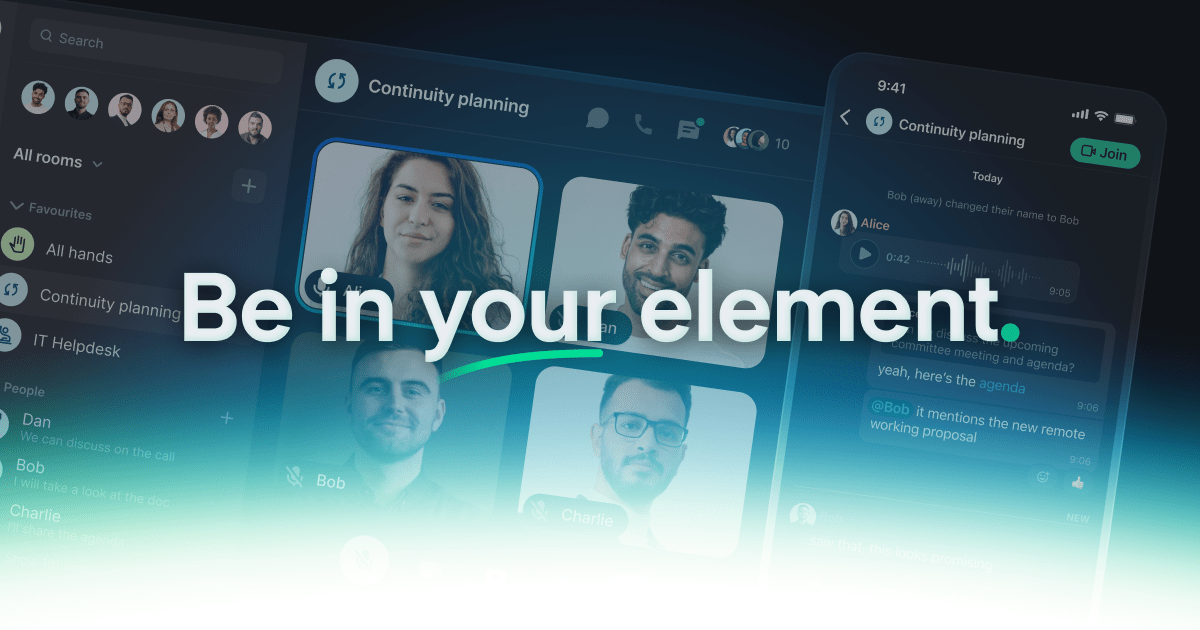 Read more: 12 UI Elements For Mobile App Navigation Patterns
Other WhatsApp Mobile App Alternatives
As the demand for messaging mobile app development increases, many other WhatsApp mobile app alternatives exist. Messages by Google, Kik, Keybase, WeChat, Wickr, etc., are other popular platforms that give Whatsapp-like experiences while chatting and calling.
If you further expand your determination about having messaging apps, you can also build one and launch it for the public with additional features. Let's discuss your thoughts; we will help turn your idea into a digital reality.