Meet MMC Global Tech Titans At GITEX
The most awaited event of the year is now going to be held, and guess what? MMC Global will also be there!
Grab your seats because the future of tech is about to get a whole lot more exciting! We're thrilled to announce that MMC Global is gearing up for one of the most electrifying events of the year—GITEX 2023.
Get ready to dive headfirst into the world of innovation as we join forces with tech visionaries, industry leaders, and pioneers from across the globe at GITEX 2023.
It's not just an event; it's a spectacle, a convergence of minds, and the ultimate showcase of cutting-edge technology.
Not sure about the GITEX Event? Let me explain this most awaited event of the year!
Brief Overview About GITEX
GITEX GLOBAL is the world's largest technology event, taking place in Dubai, United Arab Emirates, every October. It brings together over 100,000 visitors and 5,000 exhibitors from over 170 countries to showcase the latest and greatest in technology innovation.
Expand North Star is the world's largest startup event, taking place in Dubai, United Arab Emirates, every October. It is co-located with GITEX GLOBAL and features over 1,800 startups from over 100 countries. Expand North Star provides a platform for startups to connect with investors, mentors, and potential customers.
In 2023, GITEX GLOBAL and Expand North Star will be held from October 15-20. The two events will be held at two different venues: GITEX GLOBAL will be held at the Dubai World Trade Centre, while Expand North Star will be held at the new Dubai Harbour.
The two events will complement each other, with GITEX GLOBAL showcasing the latest and greatest in technology innovation from established companies and Expand North Star providing a platform for startups to showcase their innovative ideas and products.
GITEX and Expand North Star are two of the most important events in the global technology calendar, and they play a vital role in connecting the world's leading technology companies and startups.
Why MMC Global Is So Excited About GITEX?
MMC Global is thrilled to announce our participation in GITEX, the world's largest technology event and startup event, respectively. This event is a unique opportunity for us to showcase our innovative services and connect with potential clients and partners from all over the globe.
At GITEX, we will be exhibiting our expertise in mobile app development, software development, website development, ERP development, business automation, cybersecurity alliance, and other related services. We are confident that our cutting-edge solutions can help businesses of all sizes streamline their operations, improve efficiency, and boost profits.
We are particularly excited to participate in GITEX 2023, as we believe that startups are the driving force of innovation in the technology industry. We are eager to learn about the latest and greatest startup ideas, and we are committed to providing our support to startups that are disrupting the status quo.
Our Comprehensive Services
Our core services will help you know us better!
Custom Software Development Services
At MMC Global, we're not just in the business of custom software development; we're in the business of transforming ideas into digital realities. Our software development services are a testament to our passion for innovation and unwavering commitment to quality.
We excel in crafting bespoke solutions tailored to your unique needs, whether it's developing cutting-edge mobile applications, robust web platforms, or scalable backend systems. What sets us apart is our ability to turn complexity into simplicity, leveraging the latest technologies and industry best practices. With a proven track record of delivering on time and exceeding expectations, we make your vision our mission.
Mobile App Development Services
At MMC Global, our custom mobile app development services are designed to bring unique ideas to life, no matter how complex or ambitious. We thrive on innovation and understand that each project is a distinct journey. Our expert team of developers and designers works closely with clients to craft mobile applications that not only meet but exceed expectations.
We're not just about coding; we're about creating intuitive, user-friendly, and visually stunning apps that captivate and engage the audience. With a commitment to staying at the forefront of emerging mobile technologies and a track record of delivering successful mobile solutions across various industries, we're the partner you can trust to bring app vision to the palms of users' hands.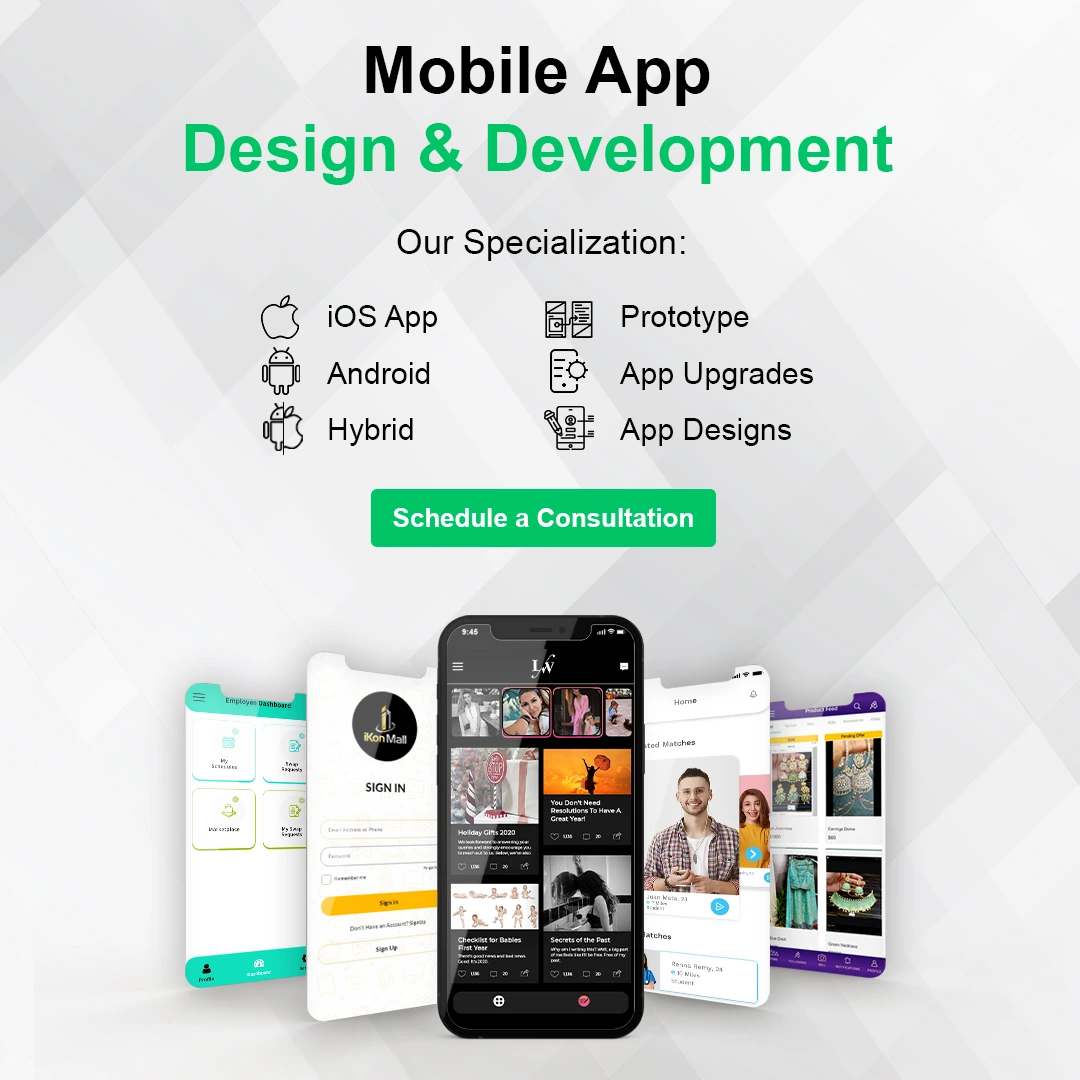 Web Development Services
We excel in the art of web development, crafting digital experiences that leave lasting impressions. Our website development services are driven by a passion for design, functionality, and user engagement. We understand that the website is often the first touchpoint between the brand and the audience, and we're here to make it count.
We are capable enough to build a stunning e-commerce platform, a dynamic corporate website, or a sleek portfolio site. Our team of skilled developers and designers collaborates closely with our clients to ensure their vision comes to life seamlessly. With a focus on innovation and performance and a track record of delivering successful web solutions, we're the team to rely on to elevate the brand's online presence.
ERP Development Services
Our ERP development services are designed to empower your organization with tailored, comprehensive solutions that drive efficiency across all facets of your business. We understand that no two businesses are alike, which is why our expert team works closely with you to create a bespoke ERP system that aligns perfectly with your unique needs and goals.
From optimizing supply chain management and human resource management to enhancing financial reporting and automating core processes, we're committed to delivering ERP solutions that bring tangible results.
Business Automation
We specialize in revolutionizing businesses through smart automation solutions. Our business automation services are designed to empower organizations with the tools they need to streamline processes, boost efficiency, and unlock their full potential. We understand that time-consuming, manual tasks can hinder growth and innovation, which is why we work closely with you to identify areas ripe for automation.
Whether it's automating repetitive administrative work, optimizing workflow processes, or integrating cutting-edge AI technologies, our expert team is committed to delivering solutions that drive cost savings and productivity gains.
Industry 4.0
We are at the forefront of driving innovation in Industry 4.0, helping businesses embrace the digital transformation of manufacturing and operations. We understand that staying competitive means embracing technologies like IoT, AI, Blockchain, Cloud computing, and data analytics to optimize production processes, reduce downtime, and enhance overall efficiency.
Our dedicated team collaborates closely with clients to design and implement solutions that seamlessly integrate into existing operations, unlocking the full potential of Industry 4.0. With a proven track record of successfully guiding businesses through this transformative journey, we're the trusted partner anyone can rely on to lead the organization into the future of manufacturing.
We Go Parallel With Futuristic Technologies
Our expertise spans Generative AI and its in-depth attributes, including ML, NLP, and deep learning, allowing us to create intelligent systems that understand, interact, and evolve with users. We're at the forefront of chatbot development with the emerging power of GPT and other OpenAI breakthrough technologies.
Our commitment to innovation extends to state-of-the-art approaches, enabling us to build robust AI solutions that adapt and thrive in dynamic environments. Our dedication to pushing the boundaries of AI technology is reflected in our ability to transform ideas into intelligent solutions, empowering businesses to stay at the forefront of the AI revolution.
We are confident that this event will be a great opportunity for us to showcase our innovative services and to connect with potential clients and partners from all over the globe. We look forward to seeing you there.
Excited To Present Tech Insights, You Just Ensure Your Presence!